Pie Town, less than a mile from the Korean Veterans Boulevard roundabout and the Nashville Convention Center, is already becoming a trendy development pocket in Nashville.
With a design aesthetic modeled after the Edition in Los Angeles and designed by Alex Pettas Architecture and Barnett Design Studio, we are building 83 units of residential mixed-use units that are STR eligible, along with active street-level retail or office space.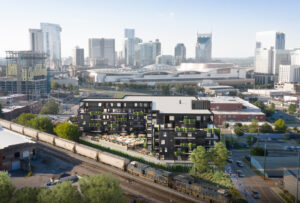 CA South broke ground at the Pie Town site in June of 2021 and is currently 2/3 complete.
Framing is topped out, the roof is installed, and 90% of the exterior waterproofing is complete. The plumbing, electrical, and fire suppression rough-in is complete as well.
We have also begun the process of working on mechanical from the 6th floor down and the balconies.
Looking forward, we expect cabinets to be installed within the next 6 weeks and drywall will be on all floors within 4 weeks followed by the first coat of paint.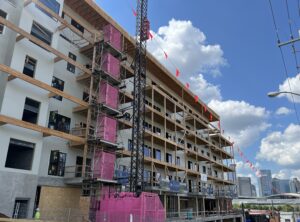 Delivery is set for Q1 2023 and our sales team has begun the final review process of pricing and marketing materials.
Our team is excited to bring our Hyve project to market! If you would like to join our VIP email list to have first access to early-released units this coming Fall, please email [email protected].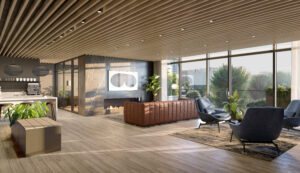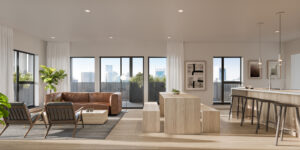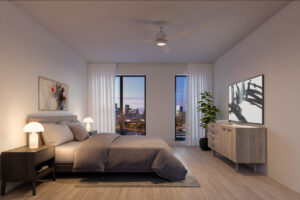 From left to right, renderings of our Hyve projects lobby as well as a living room and bedroom.