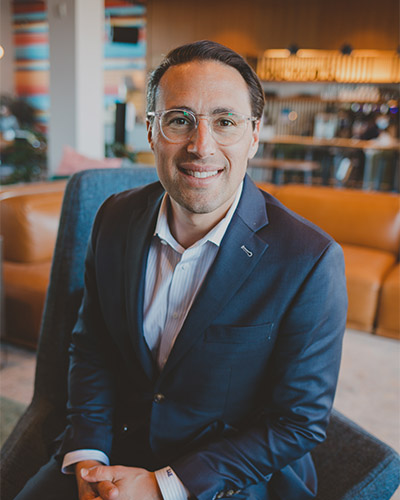 CA South successfully launched its first dedicated blind pool fund in early 2019 and tapped Stephen to lead its newly formed investment management division. Stephen's roots in real estate development run deep, as he began in the industry just after graduating from the University of Southern California in 2003. Stephen began working for Conquest Student Housing, a boutique real estate development firm with over $150M in student housing projects. After Conquest divested of its properties, Mr. Epstein moved back to San Francisco to work for another student housing developer in Berkeley, California, Panoramic Interests.
A year later, Mr. Epstein took a position as Acquisition Analyst with Grosvenor Group Limited, the Duke of Westminster's global private equity real estate fund. At Grosvenor, Mr. Epstein received a more refined and disciplined education in formal underwriting, asset allocation, fund management, and other important institutional skills. During his time at Grosvenor, Stephen worked on transactions of more than $300M and earned his CCIM.
In 2007, Mr. Epstein exited the real estate field and started a publishing and training company named DollarCamp to bring financial literacy to high school and college students. DollarCamp continues to publish textbooks and education curriculum to this day, with Mr. Epstein remaining an owner but no longer involved with day-to-day business matters. In 2009, Mr. Epstein returned to real estate and began buying rental properties in Aurora, Colorado and Tampa, Florida. In 2012, intrigued by its real estate market and attracted to its strong demographic fundamentals, he relocated to Nashville. Over the next five years, Mr. Epstein syndicated over a dozen residential renovation projects and land entitlement projects and parcels, reinvigorating areas of East Nashville, Germantown, and Sylvan Park.