streamlined processes.
Owner Portal
View your financial statements, access share documents, and set up your online payment options. 
AREAS OF EXPERTISE
Our Competencies
Property and Facility Management
CA South offers a full range of customizable services to real estate owners, including property management, marketing/leasing, development/redevelopment, acquisition/disposition, and finance/accounting. We work closely with each client to identify their specific needs and create innovative solutions to reach short- and long-term investment goals.
Tenant Relations
Ca South prides itself on consistent and transparent communication with the tenants in our buildings. We want our tenants to feel like we are just a phone call or email away for any issue that may arise. We are a new generation of property managers – always available, rain or shine, 24 hours a day, 7 days a week.
Comprehensive Asset Analysis
Our onsite management teams provide standards, guidelines and periodic assessments of property administration; risk administration; personnel management; contract services; mechanical physical facilities, preventive maintenance; energy management; equipment efficiency; and personnel development.
Preventative Maintenance
As CA South builds its portfolio of development projects in Nashville, it also has developed a preventive maintenance program to protect its assets. Today, our clients benefit from the many vendor and subcontractor relationships we have built in the community, which allow us to ensure building equipment exceeds its expected life cycle and leads to minimal unplanned shutdowns.
Capital Expenditure Forecasting
Accurate, timely and strategic capital expenditure forecasting is essential to asset positioning, ownership cash flow projections and planning for future operations. Through ongoing assessments, CA South's team ensures that each component is operating as efficiently as possible and that each property's aesthetics and function are meeting ownership goals. When these items can no longer meet agreed-upon standards, CA South forecasts capital expenditures by engaging internal resources including our construction and development teams as well as our external network of contractors, architects, consultants and professional engineers. Each year, during the annual plan process, the CA South team presents to ownership a comprehensive, multi-year plan outlining recommended capital investments and proposed timing, incorporating approved projects into the annual budget and cash flow projections.
streamlined processes.
Specializing in commercial and residential property management.
CA South holds operational excellence as our core value. Approaching property and facility management from an owner's perspective, CA South delivers unparalleled service, asset management, and the reduction of real estate investment risk. We have the skill and knowledge to evaluate a property and create the management strategy to maximize value. Firm principals are heavily involved in property management and approach each assignment or challenge with an ownership perspective.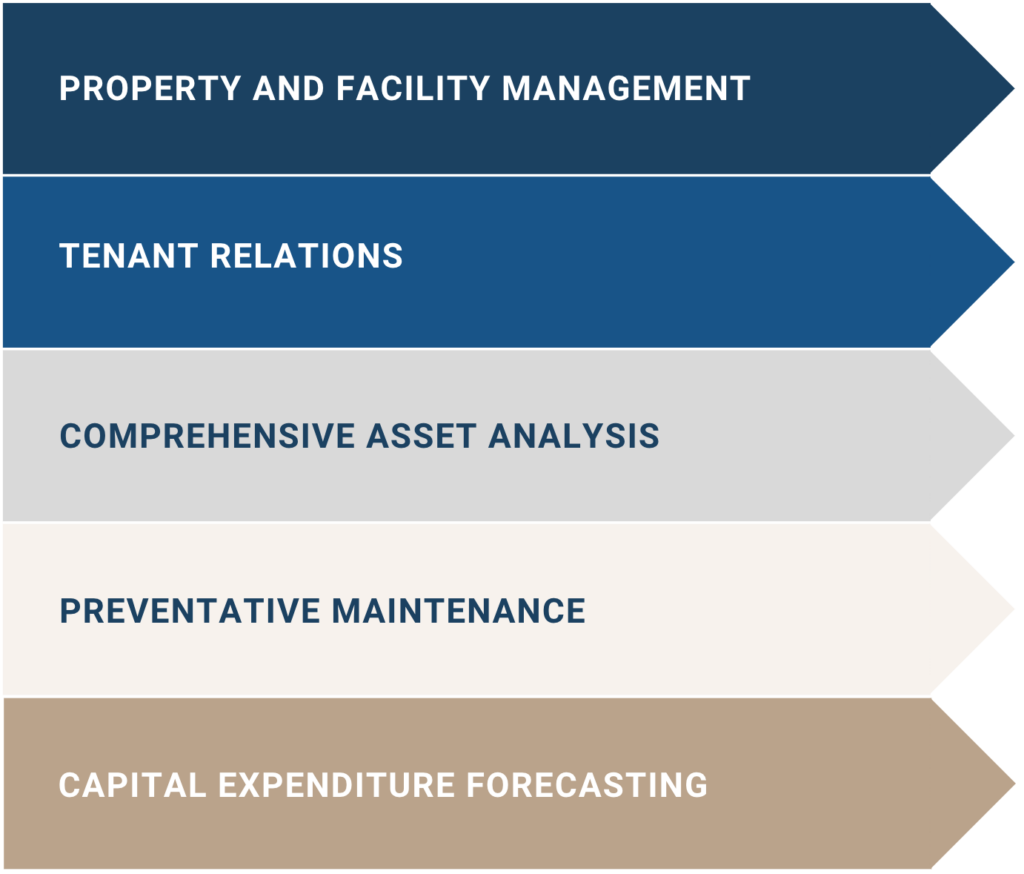 INNOVATION
Backed by Innovative Technology
The online Owner Portal streamlines communication, protects your investment, and helps you maximize the value of your properties. 
Make and receive payments from the mobile-friendly Online Portal. Directly send funds for owner contributions, including emergency maintenance repairs, renovations, or reserves via eCheck or Debit Card.
Get on-demand access to financial statements, monthly summaries, year-end tax statements, and important documents from anywhere using our robust mobile capabilities.
Stay connected and informed with built-in messaging, notifications, and emailing tools, all with fully mobile functionality to simplify collaboration.